Welcome to the Website of
Mershid Arjmand, Jewelry Maker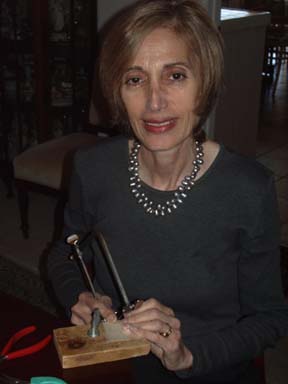 I am a local artist and have been making jewelry for 30 years. I was an art major at San Diego Mesa College and studied metal-smith there. I have had my pieces in Taboo Studio, Gallery Eight, Trios Gallery and La Jolla Fiber Arts Gallery. I was privileged to take classes with Arline Fisch at San Diego State, where I learned braided and weaving techniques with sterling silver and copper wires. I am currently show-casing my work in studio #7 at "The Spanish Village" in Balboa Park San Diego.
My jewelry has a sense of design and elegance. These creations are made from a combination of precious and semi-precious stones fabricated with gold, sterling silver or copper. I am skilled in metalworking technique called reticulation silver that gives metal a wrinkled texture. I am also skilled in cloisonné, wax casting and precious metal clay.
or connect with me on mershidjewelry@gmail.com  or